Gold Makeup and Skin Hydration: An Interesting Concept
Posted on January 11 2019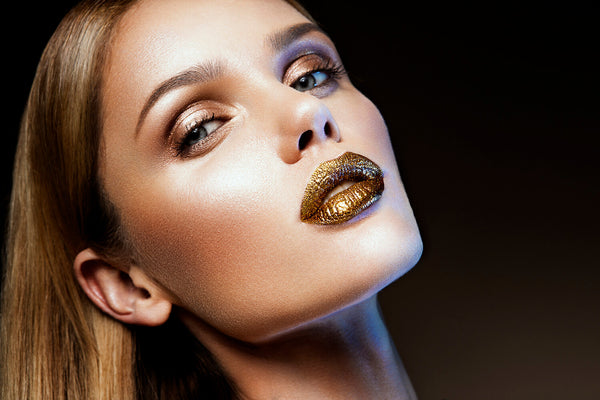 Gold in skincare is one of those things that comes and goes, popping into general consciousness every few years. It's something some may see as trendy, but it keeps coming back in regular intervals– unlike MC Hammer's pants.
The issue isn't of trendiness, it's one of knowledge – how does it work, and how does gold in makeup and skincare products affect the hydration of one's skin?
First, you need to understand that hydration and moisture content aren't the same thing. Hydration is what makes it healthy and supple. This is the amount of water that's in your skin, and where drinking adequate water and not using overly drying cleansers comes into play. 
Moisture in your skin is what makes it soft and smooth to the touch.  If your skin isn't hydrated enough, it will lose moisture and will become uncomfortable, dry, and even uncomfortable to touch. It could hurt to touch your face, if you have extremely dry skin.
Moisturizing products, including those that include gold in their ingredient lists, go a long way in helping your skin to stay hydrated, as they create a barrier of sorts to reduce the evaporation of hydration in your skin.
Does Gold Increase Hydration?
Gold has been touted as an anti-aging ingredient, preventing bacterial growth, reducing inflammation, and even brightening the skin. But there seems to be a consensus among medical professionals that there needs to be more research.
There are, of course, other ingredients in these products that have been proven to combat hydration and moisture issues- and some say these things (like hyaluronic acid, shea butter, and vitamins) are the things that increase hydration in the skin, not necessarily the gold.
Does that mean that you should give up on gold-infused products if you think they're making a difference? Of course not.  What you may notice, as this InStyle writer did, is that issues like hyper pigmentation may be less obvious , and your skin may have a bit of a healthy glow after regular use of skincare products including gold in the ingredients.
If you're looking for a new moisturizing product and want to see what the gold cosmetics buzz is about, Check out
Cocoage Cosmetics' moisturizing products
, which combine chocolate and gold with other ingredients to pamper you and improve the health of your skin